Engineering Plastic Components Plant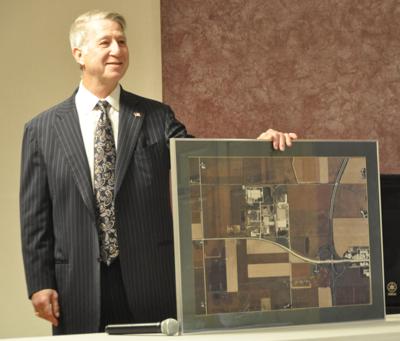 Joel Zegart, an agent for the real estate firm that sold at auction the former Engineered Plastic Components building in the Rantoul industrial park Wednesday, holds a photo showing an aerial view of the plant when it was in operation.
RANTOUL — A building in Rantoul's industrial park that was used for manufacturing auto parts but has sat vacant for several years will be repurposed.
Sold at auction Wednesday afternoon was the former Engineered Plastic Components building and 10 acres of adjacent land.
Joel Zegart, an agent for the real-estate firm that sold the property, said the name of the buyer and the sale price won't be disclosed until later.
"Everything's under contract, and we'll close probably in the next two to three weeks," he said. "It should close as soon as they can close the title work."
There were three bidders on the building. After the auction concluded, the buyer and sellers met in private to negotiate the sale.
Zegart said 12 groups expressed interest in the property, which was used to make auto parts for Mitsubishi Motors. But Mitsubishi closed its Normal plant in 2014, and the EPC plant closed two years later and has sat vacant ever since.
At one time, it was one of three Rantoul-based plants operated by Collins & Aikman, which operated it as Rantoul Products. After Collins & Aikman filed for bankruptcy, the building was taken over by Iowa-based Components Corp.
It was then sold in a property-tax sale and later donated to a Jewish nonprofit entity.
Zegart said Wednesday's buyer also had to consider the cost to bring the building back to working order. He said all the electrical, plumbing and HVAC had been torn out of the building.
"The building needs a lot of work," he said, noting it will cost an estimated $8 to $10 per square foot to renovate the 200,000-square-foot building.
The property sits in an enterprise zone, meaning the developer will be able to subtract all state sales tax from renovation costs.
Zegart said the sale is a win for both buyer and seller as well as the village of Rantoul, which will see it return to the tax rolls, and the industrial park. He said it should also afford some employment opportunities.